Capstone Project with Odigo
Making Japan more accessible for Western tourists
Role:

Prototyping Lead (wireframing, physical and digital prototyping), usability testing, UX research


Team:

Angela Mu Liu, John DeGore, Katie Sawaya, Katherine Habeck, Ajayan Subramanian


Design skills:

Information architecture, wireframing, lo-fi prototyping and hi-fi prototyping, usability testing, animation


Research skills:

Interviews, surveys, literature review, card sorting, observation, affinity diagramming


Duration:

7 months from Jan-July 2016
Project Overview
Our objective was to design a solution to
make Japan more accessible for foreign tourists
, and discover their unmet needs. We arrived at this goal after 3 months of research, including a week-long trip to Japan. From our findings we iterated on a solution and delivered an iOS prototype, a service blueprint, and guidelines for generating product content.
Our client is working towards implementing our solution.
Our Client
Odigo is a Tokyo-based startup that provides a digital platform for creating and sharing customized trip itineraries for foreign tourists visiting Japan. Their local experts create curated content about tourist spots across Japan.
Odigo wanted us to engage tourists outside of their existing website and mobile app.
The Problem Space


Tourists from all over the world are attracted to Japan. But they struggle to perform simple tasks, such as buying a subway ticket, or ordering food at a restaurant.
The
language and cultural barriers
present obstacles for tourists at every stage of their journey, preventing them from completing these routine tasks.
We experienced this ourselves
on our research trip, as first time visitors to Japan. The fear of making mistakes and the inability to perform these tasks fills tourists with anxiety, and prevents them from fully experiencing Japan, and engaging in local activities.
Our Target User


We focused our design on the Western tourist, who experiences the most struggles, and offers more opportunities for Odigo to make a large impact in the market.
After surveying different cultural groups currently making the journey to Japan, we came up with two broad personas. Below is a representation of them that Angela made, along with their characteristics.
Our Solution
Through Odigo and a host of other resources, tourists know which spots to visit and what activities to engage in, while planning their trip to Japan. But while on their trip, they
do not know how
to perform those activities, and are afraid of making mistakes or offending locals.
We made Abeo, a mobile app that provides in-the-moment guides for tourists to get out of sticky logistical situations while on their trip to Japan. Abeo in Latin means - to go forth.
My Contribution
As the
Prototyping Lead
my primary role was to plan, manage and take active part in the creation of wireframes, mockups, physical and digital prototypes. I led my team through several rounds of prototyping, with a unique goal at each stage: to explore concepts by 'making', to validate those concepts, to test usability, and finally to demonstrate to our client the value of our solution. Some of my other responsibilities were to conduct usability testing, facilitate brainstorming and develop a functional iOS app. I took part in all research and synthesis activities, including a week-long research trip to Japan.
Research


Our design was informed by thorough research. We started with the following questions:
1. Who is visiting Japan, for how long, and by what means?
2. What is the current journey like for the tourist to Japan?
3. Who are Odigo's current and desired users?
4. Who are the other stakeholders, besides Odigo and their users?
5. Who should we target as the users of our design?
By reading through
academic articles, market research on tourism, and travel forums
, we started to understand more about who visits Japan, when, how, and what they do in Japan.
We used card sorting, explored analogous domains and analyzed social media to empathize with and understand the mindset of tourists to Japan.
From initial research we found that tourists find it difficult to communicate with service employees, due to not knowing Japanese. So we shadowed a Nepali refugee, and visited Children's museums to see how people
navigate unfamiliar spaces
without knowing the language. Through card sorting we learnt
what excited potential travelers
to Japan and what they anticipated to be difficult. We collected months of Instagram and Twitter content to see
what people were doing
in Japan.

We made the most of our trip to Japan - from handing out surveys on a plane, to conducting guerrilla interviews, and speaking to subject matter experts.
Through short surveys and talking to people on our flight to Tokyo, we learnt
why they were going
there,
for how long
, and
how they planned
their trip. On the streets we caught hold of tourists in the moment and asked them about their day. Besides these we also spoke to tourism officials, cafe owners and bloggers.
Through Co-design workshops with our client, we learnt more about their motivations and pressures. I made this diagram to reflect our learnings of their ecosystem.
Using affinity diagramming, we synthesized all our findings from our interviews, participant observations and journal entries, into 4 key insights.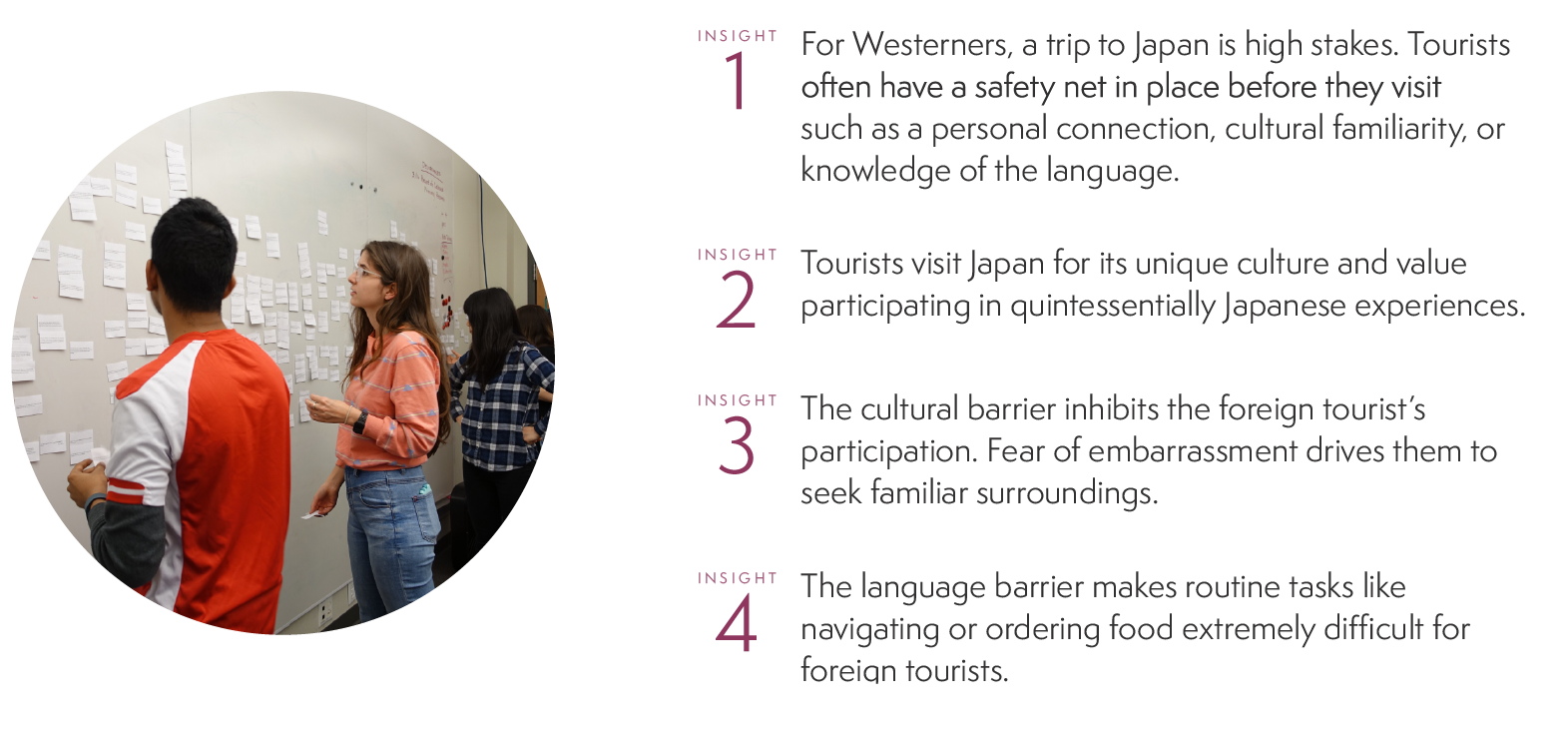 Ideation
At the end of our research we had
4 broad opportunity areas
to improve the Western tourist's journey to Japan. They served as inspiration for our exploratory visioning, and also kept us grounded on tourists' needs. Katherine made these illustrations to represent them visually.
We collaboratively brainstormed to create 21 visions for a solution, I facilitated sessions to explore user scenarios, but also kinds of context we could use, and other factors in our design.

We tested 15 of these concepts with potential tourists, tourists who visited various countries, and Odigo, through short video sketches communicating our concepts.
To overcome the challenge of communicating with a remote client, and with tourists abroad, we created these videos and asked follow up questions. They were extremely effective in eliciting strong feedback.
In evaluating our ideas, we balanced user needs, business constraints, and the technology at Odigo's disposal. Storyboarding with tourists helped us gauge the desirability of our ideas. Talking to Odigo helped us understand their business objectives. To determine the feasibility and viability of our concepts, we conducted quick market and technology research. In the end we had a broad goal to take into prototyping.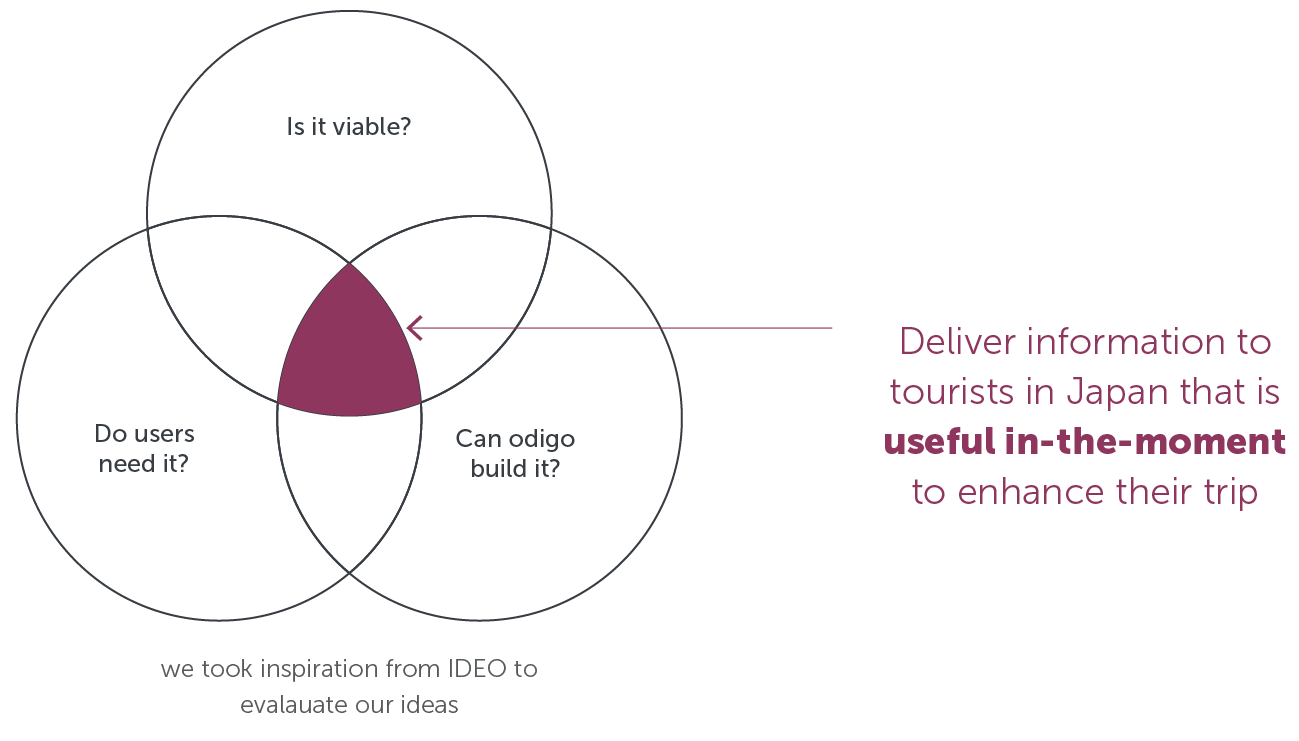 Prototyping
Our low-fidelity prototypes helped us hone in on a solution. We had fun building with cardboard, post its, popsicle sticks and LEDs. By making these prototypes, performing user enactments, and hallway testing, we discovered the following:

1) Tourists need information to perform procedural tasks.
2) This information is useful only if it is delivered at the location of the task.
3) Tourists want privacy of information, especially in public spaces.
4) Notifications are intrusive if they do not lead to clear actions.

We moved forward with a mobile solution. I sketched our initial wireframes on a whiteboard (depicted below), building on a navigation map my teammates created.
We made medium fidelity mockups on Sketch, generated a clickable InVision prototype, and conducted think-aloud usability testing.
In the wireframing exercise I marked out reusable parts of the interface. We created symbols for these on Sketch. From here we created templates for the app screens. Once we had our test script ready, we added in relevant content. We collected together our UARs and found some interesting insights:

1) The onboarding process needed to convey the utility of the app, rather than specifics of the interface.
2) Our procedural information needed to be more concise, and get straight to the point.
3) The language was not intuitive. We changed 'how-tos' to 'guides' and 'places' to 'nearby spots'.
4) There were a few general issues with our interface - buttons too small, indicators too subtle.

We iterated on this feedback and validated our correct resolution of UARs, with another Sketch + InVision prototype. We tested this prototype with users.
We reduced our onboarding to 4 screens that illustrated key features of our app, instead of teaching the interface. We made a standard template for our guides, which forced us to be concise and clear. We improved our typography, spacing and interactive elements. This prototype worked very well with users, who now clearly understood the value of the app. There were minor usability issues that we resolved, such as the intuitiveness of swiping on the modal, and ease of exiting.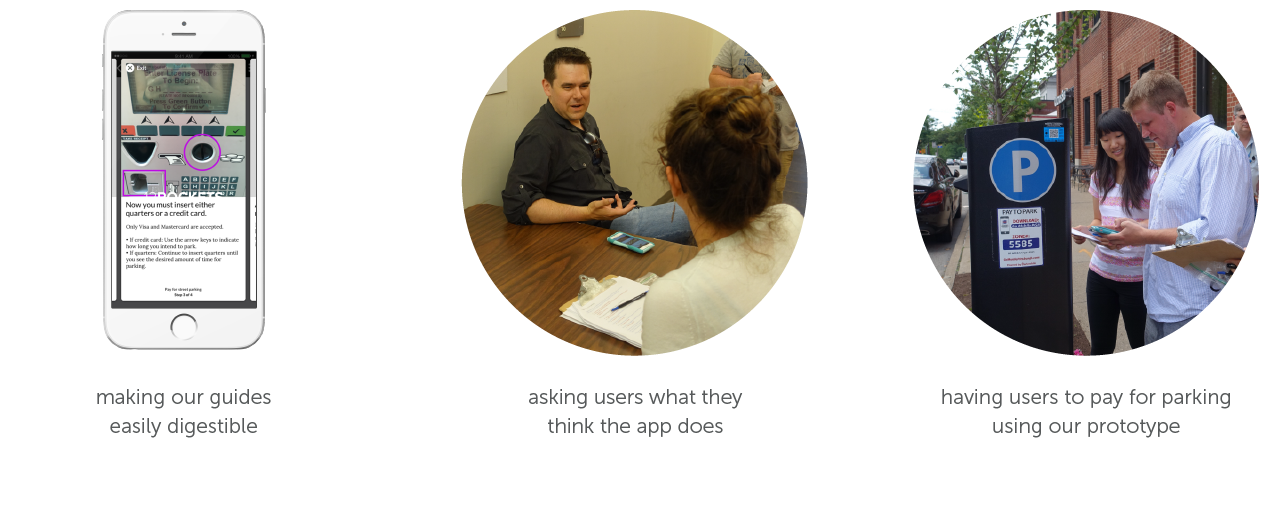 Here is a glimpse of the major iterations our mockups went through along the way. We learnt to better prioritize content, and make actions clearer.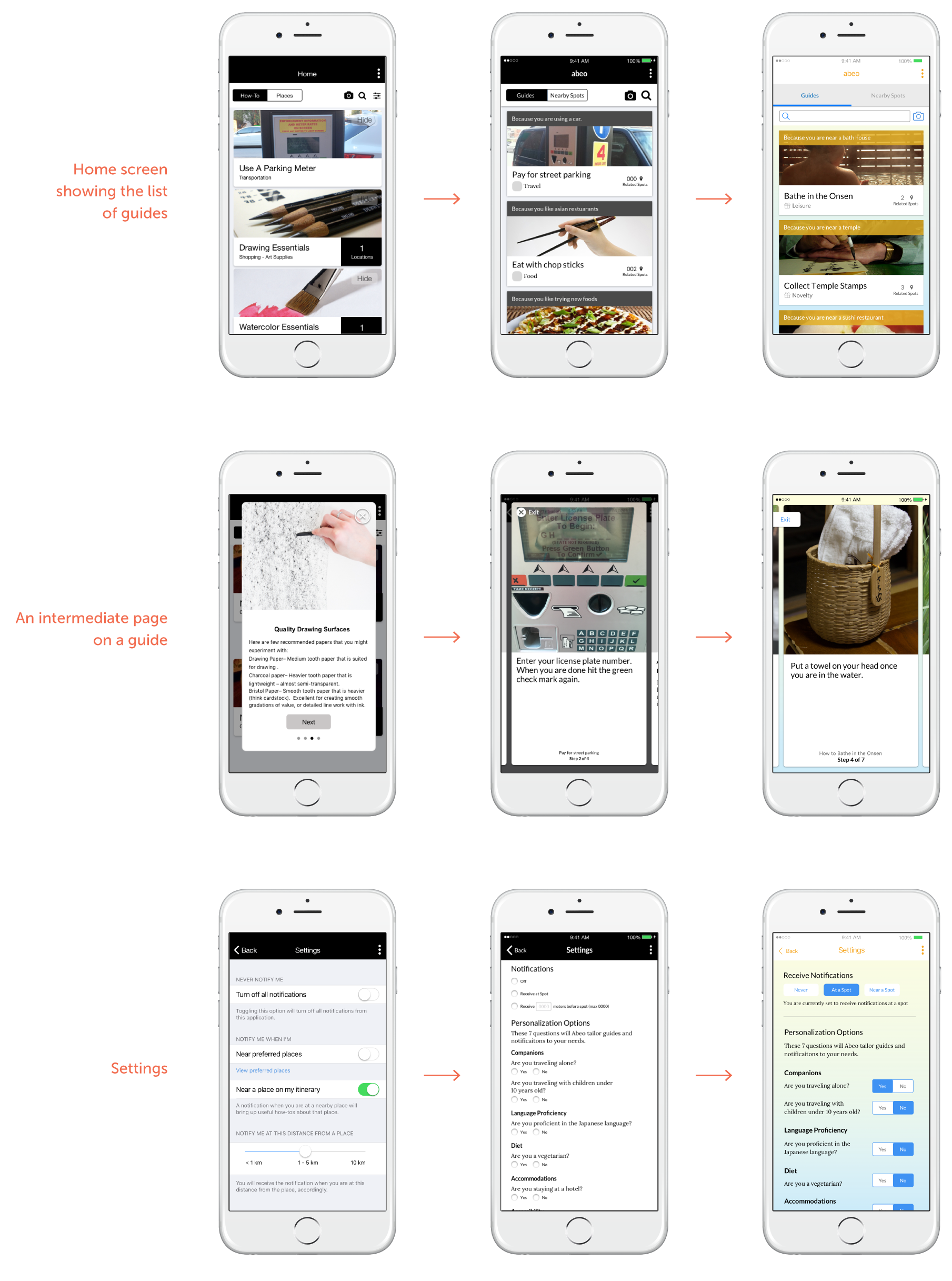 Our final prototype was a functional iOS app, shown above in the 'Solution' section. Besides this we presented other deliverables to Odigo, to help them implement our solution.
The iOS prototype encapsulates the core of our design. To accompany this we created detailed wireframes, guidelines for writing content, recommendations for notification design, and suggestions for the future. We also presented a detailed design report, in which
I created this service blueprint, with editorial and visual feedback from my teammates
.
Learnings
I was extremely fortunate to work with and learn from talented peers, with backgrounds in graphic design, anthropology, art and creative computation. It was a challenge as a prototyping lead to ensure we were professional with timely deliverables, but also retain our exploratory nature as students in HCI. On this project I grew tremendously as a designer, building research, interaction and visual design skills, and also learning specific tools such as Pixate. Most importantly I learnt
how to eat Okonomiyaki
(it's not easy!).